BOARDING nATURALLY
The Solitaire Ranch mission is to provide a safe and comfortable home for horses and peace of mind for their owners with a healthy environment, safe handling methods, and 24-hour care. We strive to provide the highest level of safety and health standards while also giving every horse the closest approximation of a natural equine living experience possible. That means 40 acres of pastures which allow the horses plenty of room to roam, play, or graze as horses were intended–in the herd yet with enough space to choose their companions and level of interaction with other horses.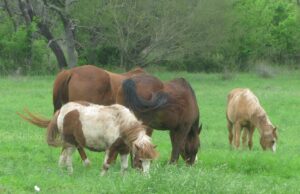 Solitaire Ranch provides full care boarding in a facility consisting of barn stalls with attached runs and outdoor covered corrals. All boarding programs provide free choice, top quality, coastal hay, concentrated feeds, and group turnout in large pastures any time weather allows.
Individualized stabling
Here at Solitaire Ranch, we take a lot of time to learn the desires and needs of every horse. While all horses go out to pasture each day, and many stay out at night as well, there are those who make it clear they prefer to stay in a corral or stall at night. We cater to each individual in all preferences as much as practical management allows. We strive to honor each horse as the unique being he is.